9/11 Bowing Journal
Who Is My Primary Employer?
It's so tempting. To turn off the news. Put blinders on. After all, it's Ferguson, it's Paris. it's Benghazi. Far away. We're safe here. Let's just think positive. Bring more babies into the world.
Or not.
For me, it looks like I was meant to put in over-time this month. Not because I planned to. Just woke up on Saturday thinking it was the 11th and headed to my bowing station across from Bread Alone bakery.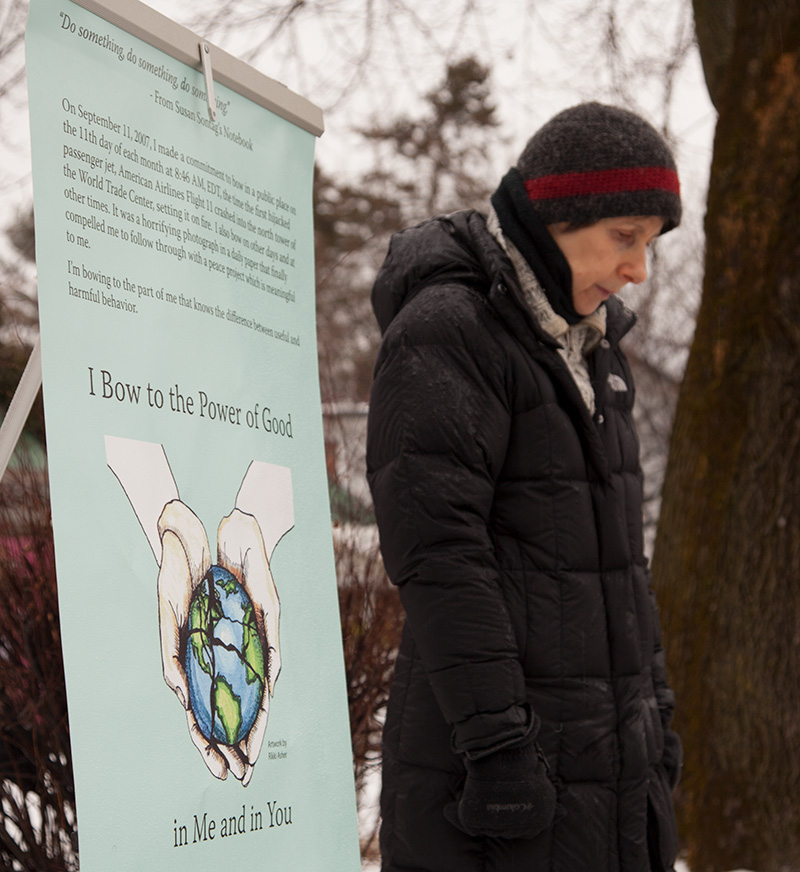 Everyone was home, my children were visiting, but none of us realized I was a day early.
It was a useful bowing day. Though it took me a lot longer than usual to get centered.
Until I forgave myself.
Until I said, It's okay. If this is all I bring to the peace table today, my distracted physical presence, it's enough.
As soon as I said that, as soon as I let it be okay, a wave of memory washed over me. My body remembered what it felt like to walk out the door with a small charcoal sign that very first time in 2004. The despair and the desire. The sense of wanting to show up for someone. As if Peace was someone as helpless as I was. Standing at the center of some village green, waiting for me to join Her.
It wasn't until Saturday night, that I discovered my error and decided I was taking a day off from bowing on Sunday. After all, I've already put in my time.
It didn't work. My plan to play hooky didn't work. Waking up on Sunday I had no choice. It was the 11th. Peace, my Primary Employer was expecting me.
It really is so easy to forget that, as Martin Luther King Jr. put it, We might've come here on different ships but we're all in the same boat now."
The smallest hole someone drills in that boat endangers every one of us.
Some part of us knows it. Some part of us keep urging us to show up for Her. For Peace. Our Primary Employer.
Who is your Primary Employer, and what does she expect from you?